Modern Furniture
Chic and Contemporary
After the Second World War, commodification, and the use of practical materials in design heavily influenced how furniture was made. It was a huge step away from what furniture design was thought to look like in the past. There was now a dramatic shift between what was considered in-style and vintage; it was the birth of the era of modern furniture. Where classic furniture had intricate designs and multiple colors, modern furniture took a simple and minimalistic approach to design and color. Much of the classic furniture look and feel came from the European's attention to detail, but modern furniture prioritized comfort and minimalism from many different countries around the world.
Modern furniture is all about comfort and simplicity. At Milano Italian Furniture, we strive to provide our customers with the highest quality modern furniture possible. The trend with modern furniture on the market is that people want to maximize comfort, efficiency, and function. We provide modern style furniture that answers the demand but also includes the classic European attention to detail and composition of the finest materials used. The contemporary furniture we offer will provide the efficiency and functionality the market desires, but with a slight fair and beauty in design. The stitching, embroidery, and subtle fashionable designs add a stylish touch that most furniture out there lacks.
Like all products we carry, our modern furniture line is made with the highest-grade materials out there. The strongest and most durable woods like birchwood and beechwood give our furniture impeccable endurance and service life. Also, the best quality real leather is used for furniture like couches and chairs. This leather is genuine and will show significantly fewer cracks than other furniture on the market and also has superior longevity.
Benefits of Contemporary Furniture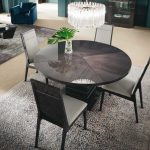 modern furniture
Modern and contemporary furniture we provide has many benefits. Our furniture exceptionally meets the demand for comfort, style, and efficiency in the modern-style home. Further, the lifespan of our furnishings is far greater than any normal couch or bed set in proportion to the price. a
Our modern furniture is designed for comfortability. As a result, you will feel relaxed and calm. In addition, the way you feel is changed when you enter the room. Rather than having a room and furniture with bold style and elaborate designs, our modern furniture is easy on the eyes. The simplistic design is easy on the eyes and the simplicity adds a soothing ambiance to the room. When someone walks into the room with our contemporary furniture, the person will feel more comfortable.
As previously mentioned, our contemporary furniture is used with the finest wood, leather and other materials that hardly lose value because of their quality. Specifically, we import birchwood and beechwood from France and only use authentic, real leather. Further, you will find yourself spending less money on our modern furnishings because of their long lifetime. Unlike most machine-made furniture on the market which tend to tear and break quickly, we are confident that our furniture will last decades.
When we advise our clients about selecting furniture for their home, we always recommend sticking to what they like but also focusing on comfortability when it comes to contemporary furnishings. We will gladly work with our clients' preferences and we have many options in size, color, and style that will match what you may need. For customers who have trouble deciding what to choose and how to begin, we suggest starting with a basis of preference in colors, designs, feel, or materials. Using this as a starting point, we can guide a customer in the interior design. For example, if a customer prefers to have fabric over leather, we will recommend accompanying accent tables, chairs, accessories, and lighting according to your theme.
Modern furniture can sometimes be too simple and basic. At Milano Italian Furniture, we also have a furniture line called transitional. Transitional furniture is designed for people who would want furnishing with a bit more work and design. Our transitional furniture fuses the demands of contemporary trends and luxury design into one. It is simply the perfect combination of beauty, elegance, comfort and most of all, simplicity.
Advice about Purchasing Modern Furniture
Today, there is a trend where people will spend less on their furniture to start and buy low cost and low-quality furniture that is mass-produced and made by machines. Milano Italian Furniture only sells the highest quality, handmade, craftsman-created modern furniture. Ultimately, the total cost to buy lower quality furniture is more expensive in the end because people will end up purchasing replacements faster than necessary or have excessive repair costs to their furniture. We always recommend buying a piece of furniture that is made with high-quality materials and made by an expert craftsman. In the long run, our modern furniture will last you longer and retain its value far better than any regular piece of furniture on the market.
Modern, Contemporary, and More
Whether you decide to go with modern and glamorous or classic and luxurious, Milano Italian Furniture has a wide variety of choices, styles, and colors. At the end of the day, our goal is to make our clients happy and 
Interested in implementing some modern furniture into your home? Find out more about our brands in our catalog by clicking the link below! Milano Italian Furniture would be glad to be the next furnishing addition to your home.